$19.99
AUD
Category: Best Sellers
THE SUNDAY TIMES AND NEW YORK TIMES BESTSELLER 'I LOVE it . . . I can't remember the last time I read a book that was so fun' DOLLY ALDERTON _________________ They were the new icons of rock and roll, fated to burn bright and not fade away. But on 12 July 1979, it all came crashing down. There was Dai sy, rock and roll force of nature, brilliant songwriter and unapologetic drug addict, the half-feral child who rose to superstardom. There was Camila, the frontman's wife, too strong-willed to let the band implode - and all too aware of the electric connection between her husband and Daisy. There was Karen, ice-cool keyboardist, a ferociously independent woman in a world that wasn't ready for her. And there were the men surrounding them: the feuding, egotistical Dunne brothers, the angry guitarist chafing on the sidelines, the drummer binge-drinking on his boat, the bassist trying to start a family amid a hedonistic world tour. They were creative minds striking sparks from each other, ready to go up in flames. It's never just about the music... _________________ 'Brace for 2019's first pop-culture sensation . . . we're not exaggerating . . . new obsession, incoming' TELEGRAPH 'Utterly believable . . . fantastically enjoyable' THE TIMES 'Pitch perfect' SUNDAY TIMES 'Reads like an addictive Netflix documentary meets A Star Is Born - despite being utterly fictional. It's also a call-to-arms that when you find your niche, don't doubt, embrace it.' EMERALD STREET 'The verdict: Daisy Jones steals the limelight... A zeitgeist book for 2019' STYLIST 'Well observed, sensitively told . . . a great read.' WILL GOMPERTZ, BBC 'A tremendously engaging, and completely believable tale of rock and roll excess... inventive, persuasive and completely satisfying.' DYLAN JONES 'I spent a lost weekend in this book. Daisy Jones is an instant icon.' ERIN KELLY 'DAISY JONES & THE SIX is a transporting novel - at once a love story, a glimpse into the combustible inner workings of a rock-and-roll band, and a pitch-perfect recreation of the music scene of the Fleetwood Mac era. You'll never want it to end.' CECILIA AHERN 'Once in a blue moon you get to discover a book you end up pressing upon many other people to read. Taylor Jenkins Reid has got every nuance, every detail exact and right. I loved every word.' PAUL REES 'So brilliantly written I thought all the characters were real . . . I couldn't put it down' EDITH BOWMAN 'Explosive . . . a gorgeous novel and a ravishing read.' CHARLOTTE HEATHCOTE, SUNDAY EXPRESS 'Sex, drugs and rock 'n' roll? You bet, but it's Daisy's refusal to become a mere muse that powers this buzzy music-industry romance.' HEPHZIBAH ANDERSON, MAIL ON SUNDAY 'The characters leap off the page, seducing you with their dramas, and making you wish the band was real.' HEAT 'The heady haze of the 70s music scene, and a perfectly flawed Daisy, combine to create a fresh, rock n roll read. I loved it.' ALI LAND, author of Good Me Bad Me ...Show more
$22.99
AUD
Category: Australian | Reading Level: very good
An utterly wonderful debut novel of love, crime, magic, fate and a boy's coming of age, set in 1980s Australia and infused with the originality, charm, pathos, and heart of Extremely Loud and Incredibly Close and The Curious Incident of the Dog in the Night-Time. The mind can take you anywhere you want to go. Eli Bell's life is complicated. His father is lost, his mother is in jail, and his stepdad is a heroin dealer. The most steadfast adult in Eli's life is Slim--a notorious felon and national record-holder for successful prison escapes--who watches over Eli and August, his silent genius of an older brother. Exiled far from the rest of the world in Darra, a seedy suburb populated by Polish and Vietnamese refugees, this twelve-year-old boy with an old soul and an adult mind is just trying to follow his heart, learn what it takes to be a good man, and train for a glamorous career in journalism. Life, however, insists on throwing obstacles in Eli's path--most notably Tytus Broz, Brisbane's legendary drug dealer. But the real trouble lies ahead. Eli is about to fall in love, face off against truly bad guys, and fight to save his mother from a certain doom--all before starting high school. A story of brotherhood, true love, family, and the most unlikely of friendships, Boy Swallows Universe is the tale of an adolescent boy on the cusp of discovering the man he will be. Powerful and kinetic, Trent Dalton's debut is sure to be one of the most heartbreaking, joyous and exhilarating novels you will experience. ...Show more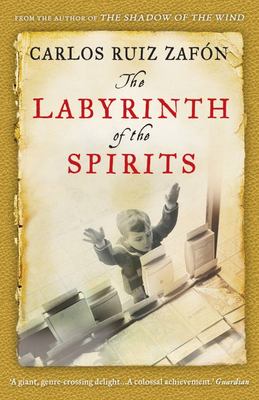 $22.99
AUD
Category: Fiction | Series: The\Cemetery of Forgotten Bks.
As a child, Daniel Sempere discovered a book that would change his life forever. Now a grown man, he is just one step away from solving the mystery of his mother's death when a new plot is revealed, much deeper and darker than he could ever have imagined. That is when Alicia Gris appears, a soul born fr om the shadows of war, to lead Daniel to the heart of darkness and reveal the secret history of his family ... at a terrible price. This is the final chapter in the story that began with The Shadow of the Windand brings it to a grand finale. It is a tribute to the world of books, the art of storytelling and the magical link between literature and life. ...Show more
$19.99
AUD
Category: Best Sellers
The extraordinary #1 New York Times bestseller that is now a major motion picture, Markus Zusak's unforgettable story is about the ability of books to feed the soul.   Nominated as one of America's best-loved novels by PBS's The Great American Read. When Death has a story to tell, you listen. It is 1 939. Nazi Germany. The country is holding its breath. Death has never been busier, and will become busier still. Liesel Meminger is a foster girl living outside of Munich, who scratches out a meager existence for herself by stealing when she encounters something she can't resist-books. With the help of her accordion-playing foster father, she learns to read and shares her stolen books with her neighbours during bombing raids as well as with the Jewish man hidden in her basement.  In superbly crafted writing that burns with intensity, award-winning author Markus Zusak, author of I Am the Messenger, has given us one of the most enduring stories of our time.   ...Show more
$24.99
AUD
Category: Best Sellers | Reading Level: very good
FROM THE PULITZER PRIZE-WINNING AUTHOR OF THE GOLDFINCH Truly deserving of the accolade Modern Classic, Donna Tartt's bestseller The Secret History is a remarkable achievement ­­- both compelling and elegant, dramatic and playful. ­­­­­­­______________________________________ 'What we did was terrible, but still I don't think any of us were bad, exactly; chalk it up to weakness on my part, hubris on Henry's, too much Greek prose composition - whatever you like.' Under the influence of their charismatic classics professor, a group of clever, eccentric misfits at an elite New England college discover a way of thinking and living that is a world away from the humdrum existence of their contemporaries. But when they go beyond the boundaries of morality, their lives are changed profoundly and for ever. The Secret History is a story of two parts; the chain of events that led to the death of a classmate - and what happened next. ______________________________________ 'So irresistible and seductive it's almost a guilty pleasure' Guardian 'Donna Tartt is an amazingly good writer. She's dense, she's allusive. She's a gorgeous storyteller' Stephen King 'A haunting, compelling, and brilliant piece of fiction . . . Packed with literary allusion and told with a sophistication and texture' The Times ...Show more
$29.99
AUD
Category: Children's Classic | Series: Dr. Seuss
The classic Dr. Seuss tale about the journey ahead of all of us as we grow up, now in a beautiful slipcased, hardback gift edition. From fun times and triumphs to lurches and slumps, Dr. Seuss takes an entertaining look at the adventures that life may have in store for us. This special edition hardback with beautiful matching slipcase is perfect for those important life events such as graduations, weddings, christenings or changing school, as well as everyday reading for all ages. ...Show more
$22.99
AUD
Category: Fiction | Series: The\Cemetery of Forgotten Bks.
Barcelona, 1945--just after the war, a great world city lies in shadow, nursing its wounds, and a boy named Daniel awakes on his eleventh birthday to find that he can no longer remember his mother's face. To console his only child, Daniel's widowed father, an antiquarian book dealer, initiates him into the secret of the Cemetery of Forgotten Books, a library tended by Barcelona's guild of rare-book dealers as a repository for books forgotten by the world, waiting for someone who will care about them again. Daniel's father coaxes him to choose a volume from the spiraling labyrinth of shelves, one that, it is said, will have a special meaning for him. And Daniel so loves the novel he selects, The Shadow of the Wind by one Julian Carax, that he sets out to find the rest of Carax's work. To his shock, he discovers that someone has been systematically destroying every copy of every book this author has written. In fact, he may have the last one in existence. Before Daniel knows it his seemingly innocent quest has opened a door into one of Barcelona's darkest secrets, an epic story of murder, magic, madness and doomed love. And before long he realizes that if he doesn't find out the truth about Julian Carax, he and those closest to him will suffer horribly. As with all astounding novels, The Shadow of the Wind sends the mind groping for comparisons --The Crimson Petal and the White? The novels of Arturo P rez-Reverte? Of Victor Hugo? Love in the Time of Cholera?--but in the end, as with all astounding novels, no comparison can suffice. As one leading Spanish reviewer wrote, "The originality of Ruiz Zaf n's voice is bombproof and displays a diabolical talent. The Shadow of the Wind announces a phenomenon in Spanish literature." An uncannily absorbing historical mystery, a heart-piercing romance, and a moving homage to the mystical power of books, The Shadow of the Wind is a triumph of the storyteller's art. ...Show more
$12.99
AUD
Category: Classic Fiction | Series: Popular Penguins
Moral allegory and spiritual autobiography, The Little Prince is the most translated book in the French language. With a timeless charm it tells the story of a little boy who leaves the safety of his own tiny planet to travel the universe, learning the vagaries of adult behaviour through a series of ext raordinary encounters. His personal odyssey culminates in a voyage to Earth and further adventures. ...Show more
$32.99
AUD
Category: Crime and Thrillers
'One of the most compulsive psychological mysteries since Donna Tartt's The Secret History' THE TIMES Cal Hooper thought a fixer-upper in a remote Irish village would be the perfect escape. After twenty-five years in the Chicago police force, and a bruising divorce, he just wants to build a new life in a pretty spot with a good pub where nothing much happens. But then a local kid comes looking for his help. His brother has gone missing, and no one, least of all the police, seems to care. Cal wants nothing to do with any kind of investigation, but somehow he can't make himself walk away. Soon Cal will discover that even in the most idyllic small town, secrets lie hidden, people aren't always what they seem, and trouble can come calling at his door. A masterful tale of breath-taking beauty and suspense, asking what we sacrifice in our search for truth and justice, and the dangers of finding what we seek.   ...Show more
$19.99
AUD
Category: Best Sellers | Reading Level: good
A universal story of love, friendship, and growing up. At school Connell and Marianne pretend not to know each other. He's popular and well-adjusted, star of the school football team, while she is lonely, proud, and intensely private. But when Connell comes to pick his mother up from her job at Marian ne's house, a strange and indelible connection grows between the two teenagers-one they are determined to conceal. A year later, they're both studying at Trinity College in Dublin. Marianne has found her feet in a new social world while Connell hangs at the sidelines, shy and uncertain. Throughout their years at university, Marianne and Connell circle one another, straying toward other people and possibilities but always magnetically, irresistibly drawn back together. And as she veers into self-destruction and he begins to search for meaning elsewhere, each must confront how far they are willing to go to save the other. Sally Rooney brings her brilliant psychological acuity and perfectly spare prose to a story that explores the subtleties of class, the electricity of first love, and the complex entanglements of family and friendship. Longlisted for the 2018 Man Booker Prize Winner of Novel of the Year at the An Post Irish Book Awards Winner of the Costa Novel Award " Rooney] has been hailed as the first great millennial novelist for her stories of love and late capitalism... she writes] some of the best dialogue I've read."--The New Yorker   ...Show more
$32.99
AUD
Category: Best Sellers
The Vignes twin sisters will always be identical. But after growing up together in a small, southern black community and running away at age sixteen, it's not just the shape of their daily lives that is different as adults, it's everything: their families, their communities, their racial identities. Te n years later, one sister lives with her black daughter in the same southern town she once tried to escape. The other secretly passes for white, and her white husband knows nothing of her past. Still, even separated by so many miles and just as many lies, the fates of the twins remain intertwined. What will happen to the next generation, when their own daughters' story lines intersect?  Weaving together multiple strands and generations of this family, from the Deep South to California, from the 1950s to the 1990s, Brit Bennett produces a story that is at once a riveting, emotional family story and a brilliant exploration of the American history of passing. Looking well beyond issues of race, THE VANISHING HALF considers the lasting influence of the past as it shapes a person's decisions, desires, and expectations, and explores some of the multiple reasons and realms in which people sometimes feel pulled to live as something other than their origins.     ...Show more
$32.99
AUD
Category: Literary Fiction | Reading Level: Adult
Booker Prize Winner 2020. It is 1981. Glasgow is dying and good families must grift to survive. Agnes Bain has always expected more from life. She dreams of greater things: a house with its own front door and a life bought and paid for outright (like her perfect, but false, teeth). But Agnes is abando ned by her philandering husband, and soon she and her three children find themselves trapped in a decimated mining town. As she descends deeper into drink, the children try their best to save her, yet one by one they must abandon her to save themselves. It is her son Shuggie who holds out hope the longest. Shuggie is different. Fastidious and fussy, he shares his mother's sense of snobbish propriety. The miners' children pick on him and adults condemn him as no' right. But Shuggie believes that if he tries his hardest, he can be normal like the other boys and help his mother escape this hopeless place. Douglas Stuart's Shuggie Bain lays bare the ruthlessness of poverty, the limits of love, and the hollowness of pride. A counterpart to the privileged Thatcher-era London of Alan Hollinghurst's The Line of Beauty, it also recalls the work of Édouard Louis, Frank McCourt, and Hanya Yanagihara. It is a blistering debut by a brilliant novelist with a powerful and important story to tell.     ...Show more